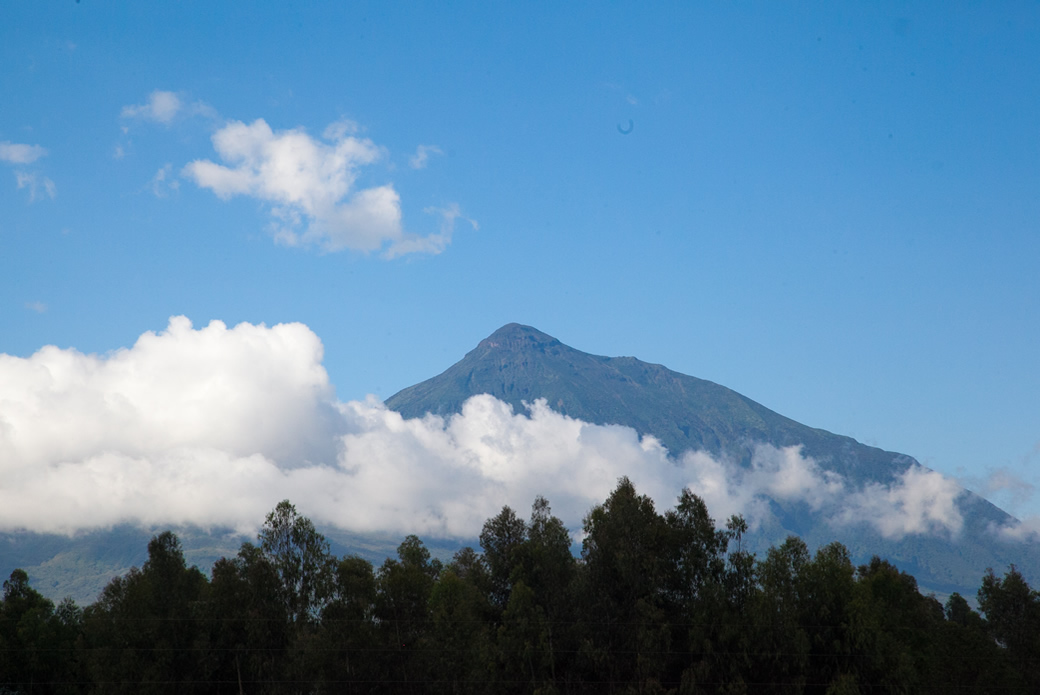 Mountain gorilla are endangered apes that were on the verge of extinction in the 1990's because of the civil wars where their natural habitats had been turned into fighting grounds and hiding places for soldiers. After a lot of conservation efforts by the Rwandan government, the mountain gorilla population started increasing steadily and today volcanoes national park is a home to half of the total mountain gorilla population in the Virunga massif that extends from northwestern Rwanda, south western Uganda and southeastern DRC.
Mountain gorillas are some of human's closest wild animals with over 98% of their DNA similar to humans. They prefer living in the forested mountain and are vegetarians that feed on plant leaves, shoots and wild fruits. They are mobile animals that move from one place to another as they look for fresh food ad for new places where they will spend a night.
Volcanoes national park has a total of 10 habituated mountain gorilla families. Each mountain gorilla family is tracked by a group of strictly 8 tourists every day, which they spend with one hour as they observe, take photographs and learn more about the life of these greatly endangered apes.
Tourists going for gorilla trekking safaris first assemble at the national park headquarters very early in the morning where the local traditional dancers entertain them as they take a cup of hot tea or coffee. They are allocated to the mountain gorilla family they will be tracking then briefed about the safety procedures to follow while in the forest. Some of the safety procedures include
Following the guides instructions especially while in the forest
Keeping a reasonable distance a way from the mountain gorillas
Minimizing noise especially when in the presence of the mountain gorillas
Not using flash photography
Avoiding imitating the behavior of the mountain gorillas like beating the chest as it may send a wrong impression to the mountain gorillas.
After being briefed, the tourists are led to the forested mountains under the protection of two armed rangers. These carry guns they use to fire bullets to scare away other dangerous wild animals that could be encountered while tracking mountain gorillas. A hike through the forested mountains is very exciting with views of other wildlife species in the national park like birds.  The trek takes about 1 to 8 hours depending on the movement of the mountain gorillas. It's a little hectic and a physically demanding activity however its always better for those who cannot hike for long distances to inform the guides or their tour operators early enough to ensure that they are allocated mountain gorilla families that can be got to after relatively shorter times of trek.
Alternatively there are porters for hire that can carry luggage and always help tourists to go move through the difficult parts of the forest. These porters can also carry some one on locally made stretchers up hill or down hill and can therefore be of great help in case their services are needed. They can be hired at about $10 to $15.
Mountain gorillas can be encountered at any time of the year however tracking can be more easy during the dry season because its always easy to move through the forests which may not be the case during the wet season. Tourists interested in mountain gorilla tracking should acquire permits that are sold at $750 each and can be obtained from the Rwanda development board or through a trusted tour operator.
Volcanoes national park can be got to by road transport from Kigali a drive that takes about 2 to 3 hours.