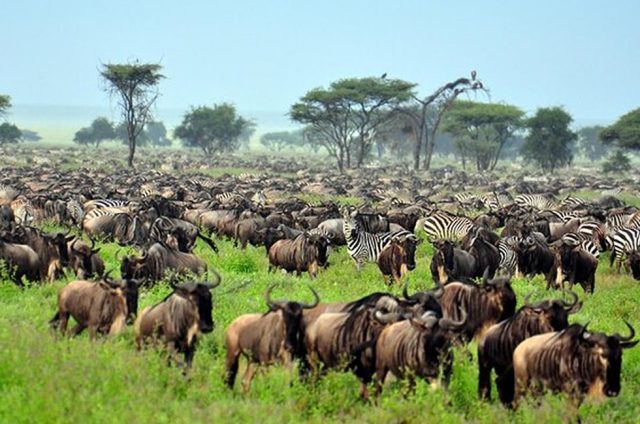 Wildlife is amongst the reasons why thousands of tourists pack for numerous destinations around the globe. Africa is one of those destinations. This continent invites travelers with its diverse wildlife which include unique species that are not found in other continents like Europe, Asia and more.
These species are scattered in different regions including East Africa, a home to mountain gorillas, chimpanzee primates, Golden monkeys, African big fives and the notable Wildebeests.
If you are a person who has saved for years just to have ultimate safari encounters with different Wildlife species, don't hesitate to include East Africa on your bucket list.
This region is highly endowed and will leave you with everlasting memories. Below are some of the major hotspots that leave most wildlife addicts just contented with all what they offer.
Maasai Mara National Reserve
If you ask most tourists the reasons for their trip to Kenya, Maasai Mara National Reserve is one of them. This protected area is huge and a highlight for Tourism in Kenya.
It tempts tourists with its diverse wildlife that consist of different animals like the African big fives, wildebeests, zebras and a number antelopes. There are many activities to partake such as game drive, hot air balloon rides but most travelers come to see the great World's Wildebeest migration.
Kidepo Valle National Park
Situated far in the north eastern part of Uganda, Kidepo is a park of its kind in Uganda. This protected area differs itself unique from other with a number of unusual species that are not found in other parks around the country. On your next safari to Uganda, don't miss this less visited national park in Uganda.
Some of these species include ostrich, serval cats and more. Other animals that enjoy the beautiful habitats of Kidepo are elephants, buffaloes, giraffes, zebras, and antelopes to mention but a few.
Serengeti National Park
For anyone who seek a glimpse of Tanzania's rich Wildlife, Serengeti should be your first start. This Park covers an area in the northern part of Tanzania on the borders with Kenya.
Its luxuriant habitats (composed of savannah grasslands, woodlands and shrubs) plays host to a plethora of wild animals, species of birds, insects and reptiles. The list of animals and other species in this park is endless, but some of those that dazzle tourists are the Wildebeests, African big fives, Zebras and more.
Queen Elizabeth National Park
Situated in the western part of Uganda, this Park was named to commemorate the visit by Queen Elizabeth II. It welcomes visitors with its wide range of Wildlife species.
The park is divided into different parts including the Kasenyi plains, Mweya peninsula, Kyambura gorge and the southern Ishasha sector.
Animals are plenty here including African big fives, antelopes, but the main highlight for tourists are the famous tree climbing lions that rest in the fig trees in Ishasha.
Murchison Falls National Park
Murchison is another spot that tempt travelers with its beautiful Wildlife. Located in the north western part of Uganda along the Albertine Rift, Murchison Falls Game Park is the largest Park in Uganda.
Travelers know it not only for its Wildlife but also the great Murchison Falls, a natural scenery within the Park boundaries. You get there by road from Kampala via Kampala – Masindi – Gulu highway or arrange private charters from Entebbe up to Pakuba airstrip.
Kibale Forest National Park
This is for Lovers of Chimpanzees. Kibale Forest National Park is positioned in the western part of Uganda. With its high numbers of primates, travelers around the globe refer to it as the primate capital of Uganda.
Its evergreen vegetation and stretch of trees is a great habitat to plenty of wildlife species including over thirteen primates and different bird species. Chimpanzee tracking, habituation experience and bird watching are the main activities offered in this Park.
Bwindi Impenetrable National Park
Bwindi is located just in the South western part of Uganda. It is one of the two Uganda's Parks that are home to the rarely seen species of Gorillas. About 95 percent of Uganda's Gorilla population is found in this protected area. Bwindi stretch of thick forest is a habitat not only to Gorillas, but also to a number of other species like monkeys, birds and more.
Akagera National Park
When it comes to Wildlife Safaris in Rwanda, Akagera National Park has to be the first on list. This protected area is nestled in the eastern part of Rwanda along the border with Tanzania.
Its beautiful habitats are inhabited by a number of animals including African big fives, birds and reptiles. Lakes within its boundaries like Lake Ihema are home to some aquatic species like crocodiles, hippopotamus and water birds.
Most animals in the park are sighted while on game drives, those who are after the species of black Rhinoceros, a helicopter is available to drive to the exact location of these species. Since these animals are dangerous to human life, you can only see them from the helicopter seat.