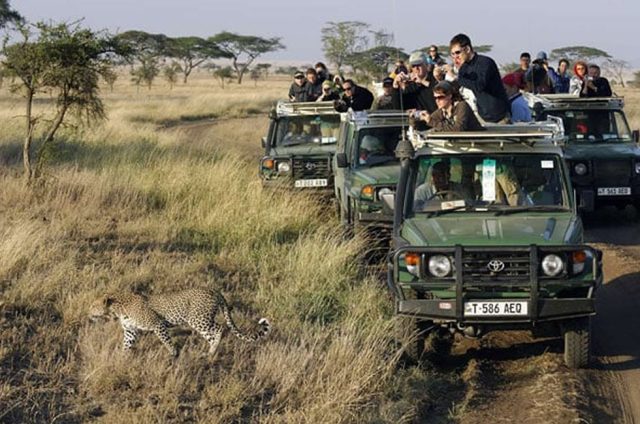 Africa is blessed with not only unique landmarks but also has countless experiences for you to enjoy. Regardless of your travel plans, a visit to Africa is worth it! There are many ways to experience Africa to the fullest whether you wish to embark on exciting white water rafting on the Zambezi River or source of the Nile at Jinja or to strike your imaginations with the rare mountain gorillas while in their natural habitat.
Below are four epic African experiences to enjoy;
Mountain gorilla adventures
A trip to Africa is only complete when you include mountain gorilla trekking experience in your travel plan. Africa is blessed with the rare mountain gorillas that are inhabited in only the lush rainforests of Bwindi National Park and Mgahinga National Park in southwestern Uganda, Volcanoes National Park in northwestern Rwanda and Virunga National Park in eastern Democratic Republic of Congo (DRC). Mountain gorilla trekking involves hiking through the steep slopes and dense rain forests of Uganda, Rwanda and DRC while in search for mountain gorillas. A glimpse at these massive creatures in their natural habitat is such a magical experience not to miss on a gorilla safari in Africa.
To trek mountain gorillas in Uganda, Rwanda or DR Congo, you need a gorilla permit. Each country has its set price for gorilla permits and in Uganda, you can obtain a permit at $700 through a ground tour operator who is trust worthy or reservation office at Uganda Wildlife Authority; in Rwanda gorilla permits are issued at $1500 per person per trek and you can obtain one through a trust worthy tour operator or reservation office at Rwanda Development Board (RDB) and in DR Congo, you can secure gorilla permit at $400.
Mount Kilimanjaro/Rwenzori Mountain climbing
Best referred to as the Roof of Africa, Mount Kilimanjaro is Africa's tallest mountain and comprises of three magical volcanoes-Kibo, Shira and Mawenzi. It stands at elevation of about 5895 meters and forms part of the Kilimanjaro National Park. It is remarkably a prime climbing destination in Africa and to make a complete hike through this mountain, you need about 9-16 days.
Rwenzori Mountains-formerly known as Ruwenzori range lies in the eastern equatorial Africa along the border between Uganda and the DR Congo. The Rwenzori Mountain ranges features glaciers and the highest peak stands at elevation of about 5109 meters. The peaks feature permanent snow capped. The Rwenzori Mountain ranges also popularly called the Mountains of the moon cover parts of Rwenzori National Park and the Virunga National Park.
View the Victoria Falls
Victoria Falls presents breathtaking view of off-beaten beauty on the Zambezi River creating border between Zimbabwe and Zambia. Best described as the smoke that thunders, Victoria Falls are a few iconic tourist treasures Africa boasts of.
Witness the Great Wildebeest Migration
A glimpse at the great wildebeest migration in Africa rewards travel endeavors with lifetime experiences. Over a million wildebeests and 60000 zebras can be spotted moving in a huge loop from Masai Mara National Reserve in Kenya and Serengeti National Park in Tanzania.