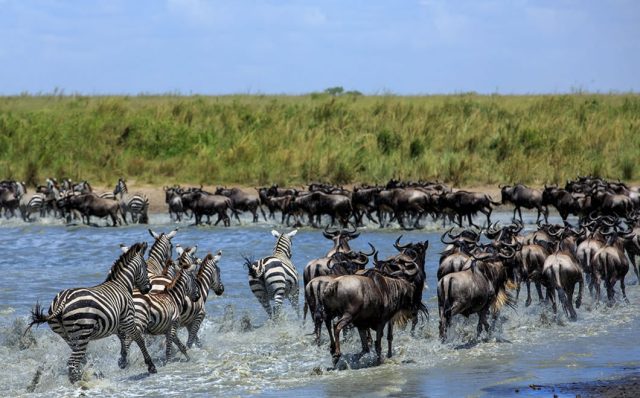 Any tour around the world can be a sweet one but one has to make it enjoyable by himself. One would ask how he/she can make the tour sweet by himself. Yeah! It's true you can. First you have to identify your interests. For example are you interested in nature, sports or amusements?  If nature, then what activities or attractions can sparkle your mind to say that you really have to go to that destination!
Normally people would love to see what they have never seen before. In this case everyone would love to watch and interact with wildlife because they are never seen in our day today life. There are lots of adventurous trips one can take like gorilla treks and chimpanzee tracking safaris where one will be able to interact with one of human's closest relatives. These are found in Rwanda, Uganda, Democratic Republic of Congo and some other tropical rain forest regions. These are very rare primates that cannot be found anywhere in the world. So it is a pleasure and an honor to watch them.
You can also opt to watch other wild flora and fauna from national parks like Queen Elizabeth national park, Nyungwe Forest National Park, Murchison Falls National Park and many more. In these game reserves you will be able to see animals like tree climbing lions, elephants, antelopes, rhinos, monkeys, giraffes and lots of bird species. It is not a guarantee that you will view these animals like in the zoo but you will see them in their natural habitats. You will see them running and moving around hunt for their prey and some looking for survival. You will also see lots of bird species around water bodies in the parks, flying in the sky, on trees and some on animals. There are other activities that can be taken from these national parks like launch cruise on River Nile in Murchison national park. While also taking a tour you can be able to interact with local people by taking a village walk as you can be embraced with traditional dance and also shopping from craft shops.
One can also take Self Drive tour in Uganda as one will go to a destination or tour around the country by himself in a 4×4 vehicle of his/her choice. You can do it with your family. You can be given an assistant to help you in navigation or you can use maps. This can be enjoyable as you can take a ride by yourself through the pearl of Africa as you will be able to view great landscapes embroiled with green vegetation cover
One can also go for other tourism activities like whitewater rafting at Itanda falls, bungee jumping, mountain hiking, boat ride and many more these can make your tour in Uganda and Rwanda so sweet.
These tours can be complemented with first class accommodation facilities that are found in the areas as they offer a range of services like comfortable bedding like single, double, deluxe and executive rooms. They also have nice cuisines with African and continental dishes.
With the entire above activities one can really have a sweet tour with their families and friends!
It can be a vacation you will never forget in your life and better to know the activities that best interest you before taking a step to book your safari.