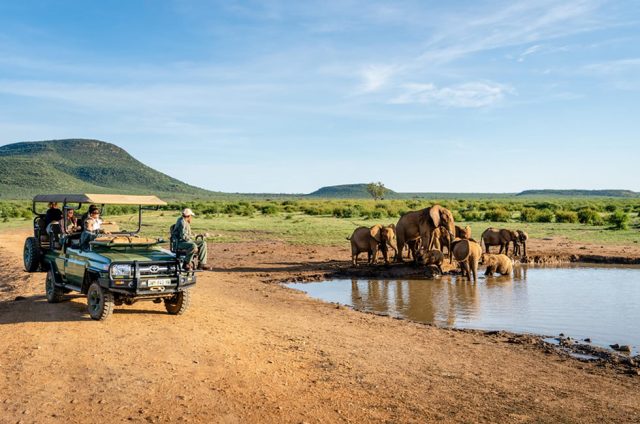 The Madikwe Game Reserve belongs to the latest park developments in South Africa. It was opened in 1991 and comprises 75000 hectares of bush land east of the town Gaborone up to the Botswana border. It Is located in a malaria-free area.
It is currently the fourth largest game reserve in South Africa and one of the best-kept secrets.
The terrain is mainly open grasslands and bushveld plains, interspersed with rocky outcrops and single mountains.
Madikwe is regarded as one of the finest conservation areas in Africa, offering all the major species, including lion, leopard, elephant, buffalo, both white and black rhino along with almost all the plains antelope species.
A special feature of Madikwe lies in its unique location, a transition zone on the edges of the Kalahari, where a number of rare species, like wild dogs, occur naturally.
The climate is generally mild to hot, but winter nights can be cold.
Finally, please note Madikwe is not open to day-visitors. Thus, it is necessary to stay in one of the twelve lodges located in the reserve.