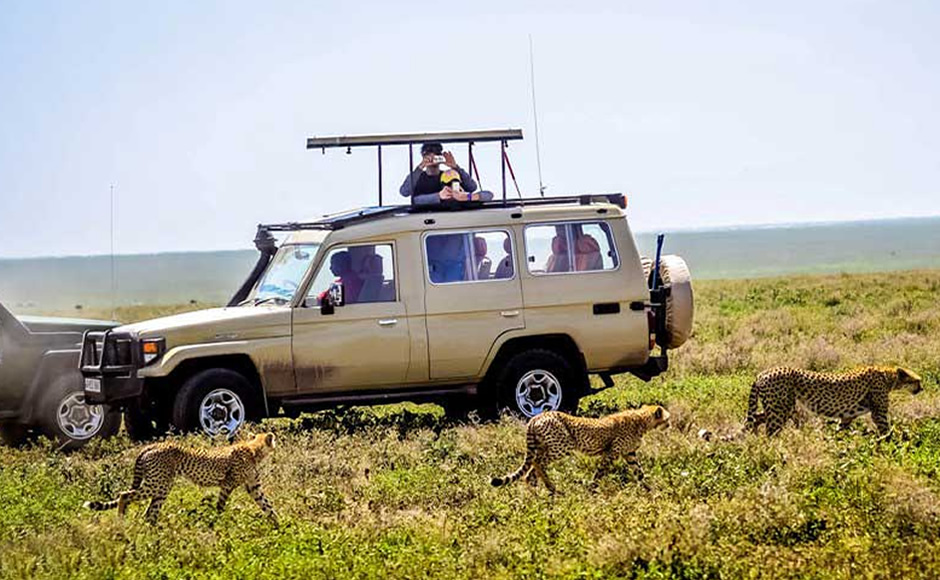 Do you have any plans of going for a honeymoon soon but you do not know which safari car is the best to use? Honeymooners on safari in Uganda or Rwanda have no reason to worry about how they can get to their dream destination because our classic and pocket friendly safari rental cars have you covered. We are premier providers of 4×4 car rentals in Uganda and Rwanda and you choose from our 4×4 station wagons to safari land cruisers, safari vans, super customs, compact Toyota Rav4 among others.
4×4 safari vans
Our 4×4 safari vans for hire are a perfect choice for honeymooners. They have a pop-up roof for you to have excellent view of wildlife with your dear one while on a honeymoon holiday in Murchison Falls National Park, Queen Elizabeth National Park, Lake Mburo National Park, Semuliki National Park.  They have carrying capacity of 5 to 10 people and they come with adequate space for you and your luggage.
Rent one of our safari vans and a driver who is experienced, knowledgeable and well-versed with routes to key honeymoon destinations and you won't regret thereafter.
Toyota Rav4
Get the best of your honeymoon trip with our classic 4×4 Toyota Rav4 to any of your dream honeymoon safari destination in Rwanda or Uganda. Our Rav4 rental cars consist of incredible features like air conditioning, FM radio, powerful engine, steering, 3-5 doors and many others. Our Toyota Rav4 rental cars are the best SUV model rental car ideal for honeymooners on excursion in Uganda or Rwanda.
Land Cruiser V8
Rent our classic Land Cruiser V8 for your honeymoon safaris in Uganda or Rwanda and have lots of lasting memories. They come with the best interior and they are capable of tackling any kind of terrain in the remote country side. Our 4×4 Land Cruiser V8 have incredible features like seating capacity of 4 to 5, 5 door, 4wheel drive, air conditioner, CD player, automatic transmission, centralized door lock, air bag both for driver and clients.
Customized Super Customs
Get value for your money with our 4×4 customized super custom safari vans for safaris with carrying capacity of 5pax, air conditioning, pop-up roof, clear windows. They are pocket friendly, comfortable and can be rented plus a driver.
In conclusion, in case of any plans to embark on honeymoon in Uganda or Rwanda, look no further than our classic safari rental cars and you won't be left in regrets.