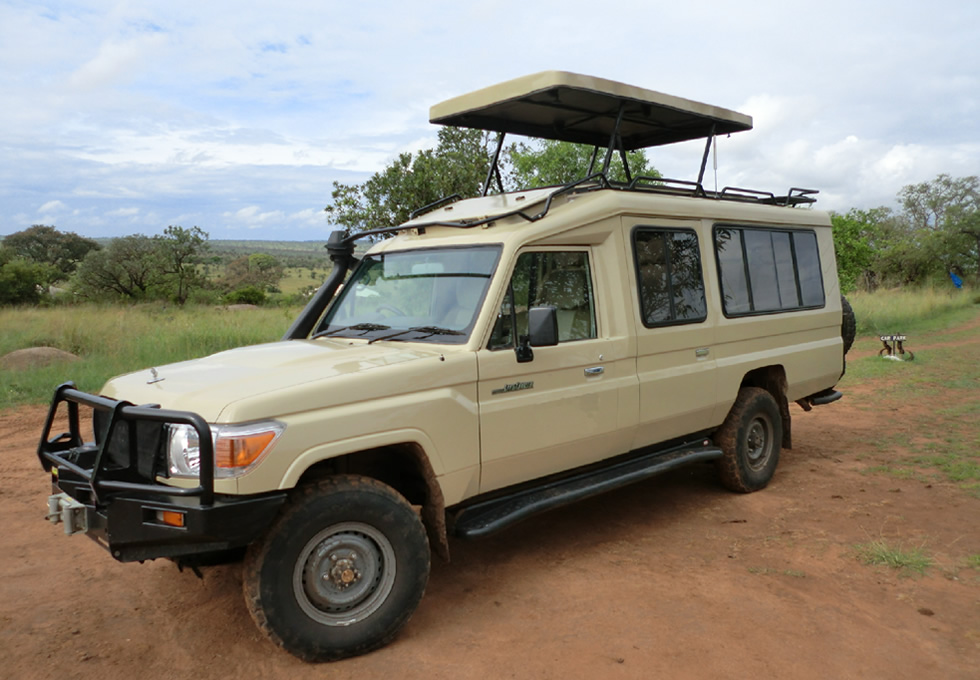 Are you planning to go on a self guided safari in East Africa? Are you in need for a reliable rental car that can take you throughout your long holiday in East Africa? Get the best long-term rental cars and explore the amazing countries of Uganda, Rwanda, Kenya and Tanzania in unique way with our classic 4×4 Toyota Rav4, Toyota Axio/Toyota Fielder 1500cc to sedan car hire.
Roof Tent Land Cruiser V8/VX
Hire 4×4 roof tent land cruiser v8 and explore Rwanda comfortably. Our roof tent land cruisers comprise of camping gear making them ideal for campers on self-drive camping tour in Rwanda.
Toyota Land Cruiser TX
Get on a long-distance safari in Rwanda with Toyota Land Cruiser TX and explore Rwanda in a unique way. This category of rental cars accommodates about 5 visitors and comprise of air conditioning, FM radio and others. You can opt for manual or automatic transmission Toyota Land Cruiser TX.
Toyota Corona Axio
Hire Toyota Corona Axio and have the best of your long-distance safari in Rwanda. Our Toyota Axio rental cars come in automatic transmission and they are the best for long distant trips. They have a powerful engine, AM/FM radio, CD player, front fog lamps, 123000km mileage, rear camera, air conditioning, armrests, mirrors among other features. You can hire one of our 4×4 or 2-wheel drive Toyota Axio at pocket friendly rate and you hit the road in a new style.
4×4 Toyota Rav4
Get the best of your long-distance safari in Rwanda with our classic 4×4 Toyota Rav4 rental car. Our selection of Toyota Rav4 rental cars come both in automatic and manual transmission options with exceptional features like FM radio, air conditioning, powerful steering, engine, adequate space for cargo and for you to stretch your legs. Our Rav4 rental cars have a carrying capacity of about 4 to 5 people and they are perfect choice for self-drive tours in East Africa.
Prado Land Cruiser
4×4 Prado Land Cruisers come with pop-up roof for you to have breathtaking view of wildlife especially while on a game drive in Akagera National Park. They accommodate up to 5 visitors and their interiors are exceptionally designed with adequate space for luggage and visitors to stretch their legs.
In summary, with the above selection of classic rental cars, we believe that you will have the best of your long-distance safari in Rwanda. For any assistance, please simply get in touch with our reservation team we shall have you sorted.