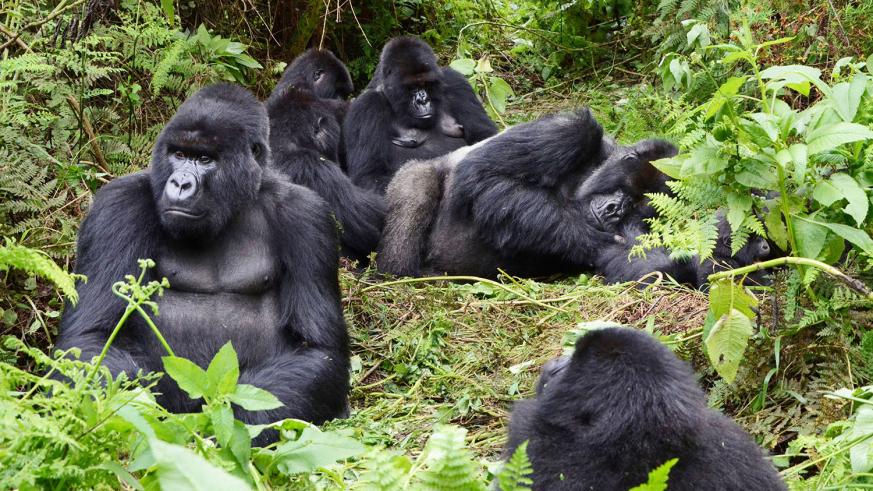 If you can't afford the strenuous walks you can pay a fee of US$300 and be carried by porters to and flow. Additionally, a gorilla permit which costs US$1500 in Rwanda is a must buy for anyone to trek the Gorillas. It is valid for use by one person in the respective booked dates.
Other than a gorilla permit, for any person to trek gorillas in whichever locality must be free from infectious diseases and above fourteen years of age.
Are you still not sure of where to go for gorillas? Below are the top five gorilla parks you can check out for engaging gorilla encounters.
Virunga National Park
Established in 1925 by Albert 1 (the king of Belgium), Virunga National Park is the oldest National Park in Africa. It was introduced mainly to protect the diverse range of Wildlife species in the Eastern part of Democratic Republic of Congo. When it comes to Wildlife safaris in Africa, Virunga has an upper hand.
Almost half of the Wildlife in the Sub Saharan region is congregated here. Virunga is the main highlight for most trips to DR Congo although it was threatened for a long time by political unrests in DR Congo. Formerly known as Albert National Park, this protected area covers a total area of 7800 square kilometers.
It stretches from the Ruwenzori Mountains in the North to Virunga Mountains in the South. The Park includes the Virunga Wildlife conservancy, an area where the East African Savanna grasslands meet with the West African rainforests.
Its diverse ecosystem (including Volcanic Mountains, Albertine rift, rainforests, woodlands, grasslands and wetlands) is home to a huge concentration of mammals, reptiles and bird species. In addition to Gorillas, Virunga is inhabited by other species such as elephants, buffaloes, duikers, water bucks, primates like red tailed monkeys, blue monkeys, chimpanzees and more. Gorilla trek is the main activity, but there are other pursuits to occupy your days like Mountain Nyiragongo hike.
For those who are after gorilla safari in Rwanda, Volcanoes National Park is the only place for you. Located in the north western part of the country, this protected area occupies a total area of 160 square kilometers.
It is part of the Virunga conservation area. Moreover, Volcanoes National Park is home to five of the eight Virunga volcanoes including Mount Gahinga, Sabyinyo, Muhabura, Karisimbi and mount Bisoke.
Apart from Gorillas, Volcanoes is inhabited by the Golden monkey primates, reptiles and over 178 species of birds.
It takes about 1-2 hours for the drive from Kigali up to the Park's headquarters in Musanze district. Once there expect to indulge in multiple activities such as Gorilla trek, Golden monkey tracking, Dian Fossey hike and Mountain climbing.